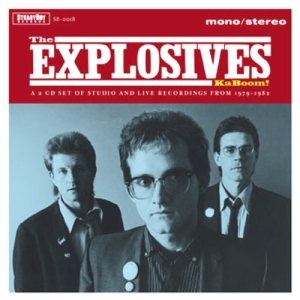 Another one in Wizzard in Vinyl's "Retrospective Power-Pop Gems" series, The Explosives came as a complete unknown to these ears, though some of the references, such as themselves serving as fellow Texan, Roky Erickson's backing band during the '70s/'80s break.
Or that the booklet liners are provided by Cream Puff War mag editor and Sundazed archivist, professor Judd Cost himself, make it interesting enough even before the actual hearing.
Of the 25 studio recordings (coming with an additional CD of live recordings) about one third made me think that it's no wonder that they got lost within the post-punk new wave/power-pop shuffle, while the rest of it sounds as it could've made the charts EXPLODE, as heard right from the very opening, skinny-tied Merseybeat of A Girl Like You.
The following Safety In Numbers adds a bit of a mod-ish pop-artistry, while some of them like Sellin' Out or If I Touch Her could be filed under the British beat revival, as it was done by the likes of the Squire or The VIPs, and Dancin' All Night proves that they actually knew "every little thing" that could be known about the mid'60s pop.
As told in the liners, "if he'd got on the bus instead of the plane" Lonely Street is pretty close to what the Specor-ized Buddy Holly might've sounded like in the '80s, Stuck In The Ball Turret is not unlike another British soulmate, Elvis Costello, in his earliest days, while, in accordance with the times, they could get quite punky in a Buzzcocky (I Go Insane) or '60s-garagey way (I'm An Explosive).
As already concluded, they didn't really make the charts "explode" back in the day, but they sure were capable of keeping the flame burning.
[Released by Wizzard in Vinyl 2005]