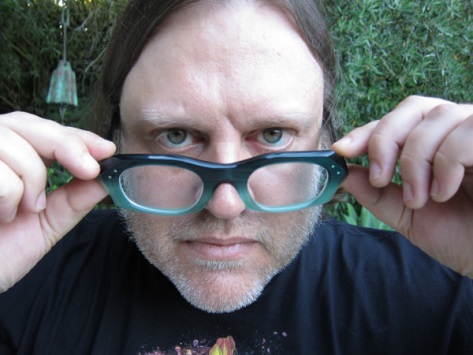 While there has been some cool stuff in his Girlfriend-and-after period (I won't go into the earlier synth/digital epoch), my general view of Mr. Sweet has been that he'll take a good 2' 30" tune and worry it into 4' 30" of "when will this end?"
His latest album, Living Things, is a prime example of this. It averages out at just over 4' 30" a cut with almost every other one being over five minutes. The lead off number, The Big Cats Of Shambala is an airy, charming, mid-tempo tune that even integrates steel drums in a relatively unintrusive way. But at the 2' 50" mark it switches over to this funereal tempo and temper, and peters on for another 2' 40" of penance.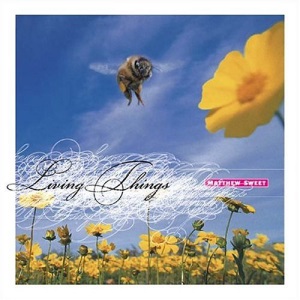 Added to the usual crew (Menck, Marsico & Leisz) for this set was Van Dyke Parks on various keyboards. He brings an intricate counterpoint that is the most interesting aspect of some of these songs.
For instance, his piano in the pounding, bass heavy, wearing Dandelion and his expanded palette of harpsichord, organ and piano (have no idea what a marxophone is) in the plodding Sunlight. It does make one wonder "what if?" As in, what if Parks had actually been part of a band way back in the day?
Not that they aren't some memorable moments here. Push The Feelings is a snappy number powered by Menck's nimble beat, topped by a high Sweet vocal that edges into a swooping falsetto and answered by Leisz' slide guitar. And Tomorrow, jangly and ringing, driven by Marsico's acoustic bass and augmented by Parks' accordion has a lovely, soaring vocal melody, with ample multi-tracked backing vocals sprucing it all up.
It was Kimi Ga Suki Raifu that is the exception that proved the rule for me. Basically 12 tracks with an average length of a bit over three-and-a-quarter minutes, and that's skewed by the last track being over seven minutes (actually it's only about five minutes followed by some dead space and then some "hidden track" mishegaas).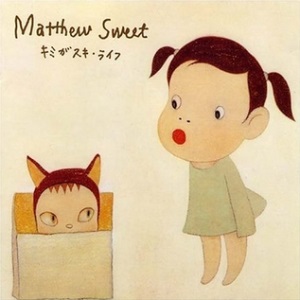 Written for Japanese release, where it came out about year before, his booklet notes declare a desire for spontaneity and a lack of "worrying" by writing everything in one week and then getting right into cutting it all.
And I think it's produced one of his finest works. Done at his home with assists from Menck, Leisz and a passing through Richard Lloyd, it's more mid-fi than usual, but that just adds to its charm.
Opening number Dead Smile is a furious rocker that more closely resembles the work of Velvet Crush than anything Sweet's done previously. You've got a driving, pounding rhythm (Menck in all his glory) that overruns Sweet's slashing guitar and an emphatic, coursing lead vocal. Layers of multi-tracked backing vocals are sharply intertwined, particularly in the choruses where a chiming, apparent glockenspiel also peeks through.
Then at the 1' 40" mark it stops on a dime, for just a lightly strummed guitar and relaxed vocal verse, at the end of which comes the first ghost of McCartney (who to my ears is the patron saint of this album) in the stacked, reverbed harmonies that lead us back to the race. Brilliant!!!
The following number, Morning Song, is a luscious, lilting, mid-tempo ballad with dirtied up guitar and what sounds like another uncredited keyboard, organ. I Love You, an overly distorted, Blues-touched number that has White Album written on its name tag, spins on for four-an-a-half minutes while all three guitarists slice and dice the Rawk. Love Is Gone is only guitars and vocal, brightly ringing guitars and many savory, resonant, overdubbed vocals and harmonies.
This whole album is stuffed with memorable melodies. Brought forth with a carefree energy and concision.
[Released by Superdeformed 2004 & 2003]
Matthew Sweet website