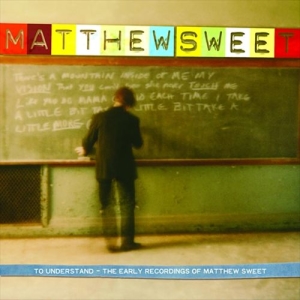 I should say that I've never been convinced of the genius of Matthew Sweet. I've found his records patchy, partly because a lot of his songs go on too long (you know, what might have been a nice 3'05" tune becomes a wearing 4′ 41″, plus there was that whole reliance on programmed rhythms).
But this twenty-two track retrospective of his first decade (the eighties) as a recording artist has some interesting bits. It mixes some obscurities with what the compiler thinks are the high points of that period.
It skips over his time with Oh-Ok and starts with his Buzz Of Delight project, which was him and former Oh-Ok drummer David Pierce. Included are two numbers from their lone record, the Soundcastles EP [DB], Southern and Christmas.
But more significantly there are three previously unreleased recordings: the original version of the song that would become the title track of the first Choo Choo Train 12" EP, Briar Rose — a truly lovely, chiming tune, that turns out not to have been tinkered much by Chastain and Menck — the slightly fussy, but pleasant The Story Of Love and the weird mix of thwacking and crystalline jangle that is the propulsive Ninety-Six Sheets.
The one thing that strikes me about the Buzz stuff is how much Sweet was enamored with Let's Active and modelled his vocals after Mitch's, particularly in his intonation and timbre. All of which is pretty much acknowledged by Sweet in the well annotated booklet notes. As he moves onto his solo career that gets left behind.
There are four cuts from his '86 debut album, Inside [Columbia]. Each is produced by a Name of the period, and are packed with a battery of synths, sequencers and digital reverb. (Anyone remember the New Romantics?)
Then, from the same year, is the one track from the Golden Palominos' album Blast Of Silence [Celluloid] that he co-wrote, Something Becomes Nothing. While that is done with a complete band, probably due to that reverb, it is of a piece with the preceding tracks.
Next are six from his A&M album, Earth. It is constructed the same way as the first album, but new producer Fred Maher gave it a harder edge and more solidity. But the clockworkness and the protracted (respective to their inherent nature) length of many of its tunes peters out the initial charm of them. In the case of the shorter songs, like Vertigo, they don't seem fully developed.
Also included are the B-sides to the two 12" promo releases from that album, Vertigo and When I Feel Again. For some unexplained reason he changed the name of You Gotta Have Me to You Gotta Love Me for this comp. The recordings, one-man band stuff, are basically pretty upped demos, but in their way more appealing than the official stuff.
The official track list ends with a demo of Good Friend. The song that would launch him into his next decade and his highest fame as Girlfriend. Here it's given a copyright of 2002, but I could've sworn it came out before on a promo 7" back in '91.
Anyway, the true ending track is Tainted Obligation, credited to the Community Trolls. They were Sweet and R.E.M.'s Michael Stipe doing their finest Louvin Brothers harmonies with just acoustic guitar and a bit of accordion backing. It is a lovely, heart-tugging recording, that came between Oh-OK and Buzz, and probably the most compelling cut here.
The booklet notes says there were two other cuts done at that time — and can probably be found on some R.E.M. bootleg, but I was oblivious about this stuff up to now and would love to see the others come out into the light of day.
[Released by A & M 2002]
Matthew Sweet website