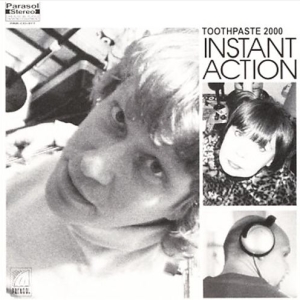 For the first time the former Cowboy and Spin Girl work with an outside producer, Adam Schmitt. Again they've recruited a new drummer, here the rock steady Kirk Jamieson. And whether it's because of Schmitt or the lunar stage during recording, this is their most consistent, focused album.
Whether it's Frank's chugging, gritty Power-Pop tunes or Donna's jangly, multi-tracked vocal Girl Group/Leslie Goreish pop ones there is a surfeit of melodic, hook-filled songs just waiting to snag your ear.
Check out Frank's terse (< 2') title track: a pulsing rocker overlaid with siren guitar on top of a steamroller rhythm, with a firm yet quivering vocal that easily carries all the melody from its yearning heights to its soft dropdowns (not that the lyrics actually amount to much). The addition of Donna's vocal echo at the very end is just picture perfect. Following on is the longest tune here, Cigarettes & Magazines, at 3'44", but it is as equally finely constructed, from the firm Jangle-Pop backing and Donna's sweetly gliding vocals to Frank's distorted (both guitar and punkish vocals) interludes that eventually melds into a counterpoint with Donna's vocals.
They can on occasion trade positions with Donna thickening her backing on Up Past Bedtime, Guarantee and the delightful, Blondie-inflected Killing Time.
While Frank lightens up for the ballads Wherever You May Go and the Raspberriesesque Mona Lisa Overdrive (doesn't seem to relate to the book from which it derives its title).
[Released by Parasol 2002]