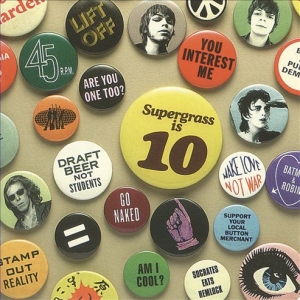 This is a curious package. Capitol passed on the last two albums, which were picked up by Island. Yet here they are again. The band has placed ten singles in the Top 20 in the UK, but never came within a light-year on these shores.
I will say that after some contemplation I do think of Supergrass in terms of their singles. There are 19 A-sides, and 2 B-sides, compiled here and I own at least half of them (some in multiple configurations due to the nature of British chart hyping — there must be enough B-sides out there for two more albums).
I guess someone is making an artistic statement by organizing the track listing non-chronologically. But in this downloading, random play era that's just a lame excuse. And they make things even worse by not including any annotation in case someone wanted to follow the band's timeline from the Buzzcocks influenced, raucous rockers of the "Britpop invasion" to their unveiling as the expansive, bastard children of T.Rex.
A number of copies of this package came with a second "bonus disc." Which I'll admit was my whole reason for any interest, since as you can surmise from the above, I already own just about all of the cuts here. The word was it contained live recordings.
Beyond that I remained ignorant until its arrival in my mailbox. Did someone imaginatively compile a collection of contemporaneous recordings? No. Does the track listing match the studio disc? No. What it is are twelve tracks from shows recorded for radio broadcast in the last year.
Kiss Of Life, the first cut, was caught by Steve Lamcq's BBC show. The rest is a show captured by XFM – the London Modern Rock station – including a three-song segment done semi-acoustically (there are still synths in spots). It is a fair representation of their live show in recent years.
I can't say anything unexpected is revealed, but if you're already a fan or just dipping your toe in now it's a nice bonus.
[Released by Capitol 2004]