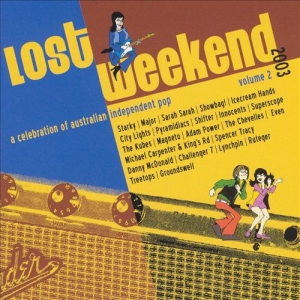 This set commemorates a Pop Fests in Sydney called Lost Weekend. I don't know if they only put it on bi-annually or just release the companion CD every two years, but a few of you might remember the first issue of this "bastard offspring," and my rambling on about my adventure in Oz that year (a faint memory at best these days), in which I discussed Volume 1.
Well this time 10 ½ of those 23 participants return (the ½ is the peripatetic Danny Macdonald, who last time was still working under the name P76), four of the remaining are know quantities (with one, Sarah Sarah, supposedly already defunct) and eight to discover for the first time.
Some of this stuff has appeared on individual records — some I've reviewed and others I've never seen — whether the notes actually mention it or not. Oh, and once more Michael Carpenter's fingerprints are smudged all over the place. The basics here are guitars and harmonies, and lots of them.
Sometimes they're thick and energetic with both shimmer and a bit of fuzz, as in Major's Smart Casual who now, with a different rhythm section than on their first volume's contribution, have made a good leap past their then prissiness; or jangling piles as in the Kubes' keen mid-tempo Frostbite though it should be noted that the solo is strong, clean and lyrical; or constantly noisy as in Ruteger's Ex Girlfriend though set off with subtle slide guitar runs interspersed throughout.
Brisbane's Shifter unfurls harmonies to match up with prime Posies or Rubinoos on the succulent Julie-Anne, while the ever faithful Pyramidiacs shine with their Byrdsian tonsillarity on the gliding I Found You.
There are a few stylistic alternatives on offer here. Most notably City Lights' drum solo opening You Stand Accused Young Man, a funkified, organ-powered rocker somewhere between classic Prisoners and second album Hives.
But also the marzipan infused Modern-Rock of Spencer Tracy's Disco King. And the trumpet highlighted, Indie infatuation with highly arranged, late '60s Soft-Rock of Groundswell's Stand Up.
It all makes me want to pack up and take the next flight back. Not that escaping the last few months of hovel misery doesn't contribute to that.
[Released by Laughing Outlaw 2003]