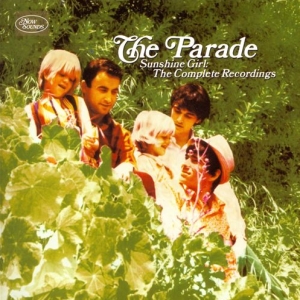 – The Complete Recordings –
Gathered around the mutual idea of writing "the perfect feel-good pop song" in early '67, Jerry Riopelle, Murray McLeod and Smokey Roberts came up with Sunshine Girl, setting the pattern for what was soon to become known as "sunshine pop". If any, that's what The Parade's entry into pop history books most usually ends with.
… And it could've been so much more. Missing to record Windy as a follow up single was just a matter of moments, turning down Happy Together was just a matter of … whatever. Even though they WERE more than capable of coming up with the same kind of goods of their own (Kinda Wasted Without You, Welcome, You're In Love, She's Got The Magic), the public obviously thought otherwise.
Besides the genre defining pieces they're most usually associated with, the occasional bluesy (Hallelujah Rocket, A.C./D.C.), folky (Lovers, Lullaby), Toytown (Frog Prince) or even Monkee business (She Sleeps Alone), didn't seem strange to them neither.
Rounding up the Now Sounds label's debut release, there's no less than 9 bonus tracks included, with the unreleased Roger Nichols Trio (featuring McLeod) demo Montage Mirror being one of the highlights not only among them, but on the whole CD as well.
[Released by Now Sounds 2008]