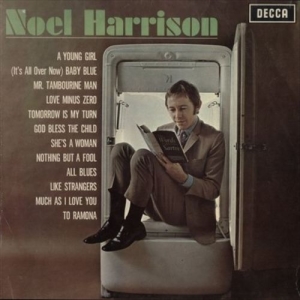 Had Austin Powers been made back in 1966 or 1967, where it belongs after all, I'm pretty sure most of this album would've fitted the soundtrack quite nice.
On a more contemporary basis, this might as well be a Mike Flowers Pops album, with a much better selection of covers, or if you happen to remember the fabulous What's It All About Album, by the ex-Moment trombonist Steve Rinaldi from 2005 (under the Rinaldi Sings moniker), this is as close as it gets to what he was aiming for.
Forever tagged as "son of actor Rex Harrison", Noel is said to be "knocked out by Dylan's poetry", knocking out several of his songs in return (Baby Blue, Love Minus Zero, Mr. Tambourine Man, To Ramona), but it's really the Aznavour tunes (with Oscar Brown Jr's English lyrics) that he shines on (A Young Girl, Like Strangers, Tomorrow Is My Turn).
Sixties don't get much more swinging than this!
[Released by Rev-Ola 2008]