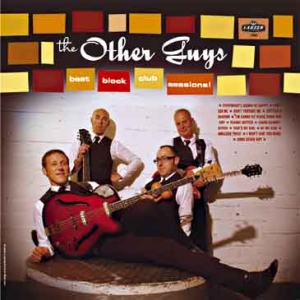 There's a couple of details about this record making sure that there's no way you can be mistaken about it's content, even before dropping the needle on it. The only thing you might get confused about, is the actual release date.
These guys home from France '09, but it's more like Hamburg '60-'62, with the Beatlemania yet about to hit. Along with some predictable covers, usual for a pre-Merseybeat set (Peanut Butter, I'm Gonna Sit Right Down And Cry … along with the inevitable Some Other Guy of course), there's a couple of not-so-predictable ones (The Kinks' Everybody's Gonna Be Happy and The Kaisers' Don't Torture Me), while the ones that seem like originals to me (there's no songwriting credits included!?), all sound as if these 'Guys are 100% true to the concept.
Don't Ask Me might as well pass for a long lost tune by The Mojos, I Won't Give You More is an early Beatlesque rocker (think You Can't Do That or I Call Your Name), while By My Side is classic Pacemakers.
On a more contemporary side of references, this is perfect for fans of the mentioned Kaisers, The Rapiers or Les Bof!.
[Released by Larsen 2009]