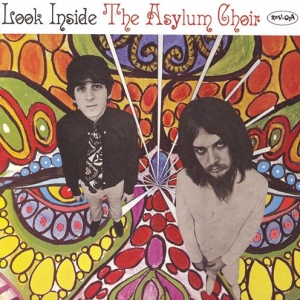 Trying to find a way to fulfill his (not too much of) spare time in between his usual, almost everyday Wrecking Crew duties in 1968, Leon Russel found an "asylum" in his own Skyhill studio, teaming up with fellow session man, guitarist Marc Benno, making this funny little two-man "choir", which we are just about to "look inside".
With Soul Food and the Lennon-at-his-most-rawking Black Sheep Boogaloo, being the only pair close enough to the rootsy sounds he's most usually being associated with, it's a much more kaleidoscopic kind of a sound that you'll "see inside", opening with an almost delta-bluesy guitar intro, that leads the way into a Kinky type of a music-hall-ish "welcome note" called Welcome To Hollywood.
It's accompanied by quite a whimsical concoction of styles, comprising harmony laden Britsike, complete with obligatory fairytale-ish candy-coated lyrics (Icicle Star Tree), a slightlydelic waltz (Death Of Flowers), a Buffalo Springfield-like old-time country (Indian Style), with an un-expected "SMiLE"-ing bridge, after it's more expected pompous tribal rhythm opening, a quirky Beatlism, kind of predating 10CC's take on the matter (Thieves In The Choir), as well as a three-part omnibus (Episode Containing 3 Songs), starting with a Zappa kind of an incidental psychedelicacy, before it evolves, first into a blue-eyed popsike, and then into a toytown-ish little ditty.
Released, no less than three times in three years (first in 1968 in USA and UK, and then re-issued in USA in 1971), Look Inside … was followed by the "choir's" sophomore chant, recorded in 1969, but not released until two years after that, which also happens to be the end of this, by no means revolutionary, but quite an amusing coupling.
[Released by Rev-Ola 2007]