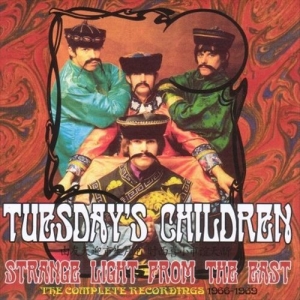 – The Complete Recordings 1966-1969 –
After years of confusion about the true story of (the one and only, as finally confirmed) North London's Tuesday's Children, here comes a "re-volation" as told by Stefan Granados through the in-depth liners, sound tracked by the band's complete recordings.
Starting their recording career under the guidance of Joe Meek as The Prophets (results of their 304 Holloway Road studio sessions are missing), all sides of the first three singles (1966-1967) under the new name, share the songwriting credit of frontman Phil Cordell, ranging from harmony-laden orchestrated pop, halfway between the Pacemakers and the Walkers' more pompous take on the matter (When You Walk In The Sand).
Through echoes of waltzing medieval melodies, with just a stripped down orchestration left (down to only a cello … or two?) (High On A Hill), to an (far) Eastern-tinged popsike (Strange Light From The East) and more upbeat power-pop, with a fuzz guitar line, adding an extra freaky touch to it as well (Summer Leaves Me With A Sigh).
The only other Cordell credit, pops up alongside his post-Children solo single from 1969 Red Lady, sharing a similar "strange Eastern light" from two years ago. After Cordell had left, the line up was expanded with the ex-Attack keyboardist Bob Hughes, and a pair of sax players, leading the band towards a more danceable and commercial, horn-laden blue-eyed soul sound (Ain't You Got A Heart, Baby's Gone, Guess I'm Losing You).
With In The Valley Of The Shadow Of Love also adding some Vanilla Fudge-like weight to it, and Baby I Need You sounding like So Sad About Us-meets-Baby I Need Your Loving, before they delivered a couple of (at the time unreleased) Britsike pieces in the form of the Kinky character-observing Mr. Kipling and the Small Faces-like organ-ization Doubtful Nellie, with a more-subtle-and-less-soulful vocal delivery, on their way to metamorphose into cult progsters Czar in 1970.
Strange or not, it's good to have some light shed on these 'Children.
[Released by Rev-Ola 2007]