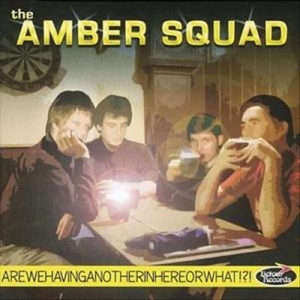 Here comes another one of the late'70s/early'80s "squads", long forgotten by almost everyone except for the good folks at Detour, who happen to have an elephant memory when it comes to the local British scenes of the period.
Even if you happen to be not-so-familiar with Detour's usual output, with a title like this, as well as a cover photo (finding each of the band members with a lager in hand at the pub table, complete with a dartboard hanging from the wall), both being suggestive enough, it's not hard for one to imagine what they're on about.
Featuring both of their singles and a compilation appearance, this release collects their entire recorded output, with the three coordinates they tend to move between, being the hi-octane pub-rockin' r'n'b that is sure to make you "feelgood" (Feet On The Ground, Don't Blame Me, Six Of Me).
A couple of classic punk-infused mod revival "jams" (You Should See What I Do To You In My Dreams, The Only One, Your Mind's Made Up), and they also seem to have had a special "knack" for rootsy new-wave-ish power-pop (Slow Starter, I Can't Put My Finger On You, Can We Go Dancing, The Nettles, Anyway).
As the liners say, "hardly an earthquake, but perhaps a few tremors" that are most certainly welcome.
[Released by Detour 2005]