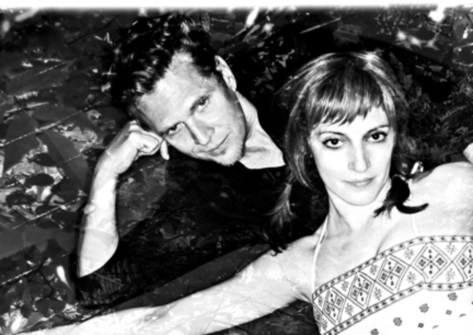 As you should know, Almaas was in the Suicide Commandos, Crackers, Beat Rodeo and probably a couple more I've missed along the way, while Smith comes over from the grungey, raucous Speedball Baby.
When I first got this the Jeff & Janet (that's Lescher of Green and Bean of Eleventh Dream Day) album of a decade ago leaped immediately to mind. That record was almost all covers and marginally more Country specific.
Here the songs are a mixture of covers, of some variety, and ones from the pen of Almaas, at least partially, or in the case of Mistakes — languorously done with Ms. Smith out front — both (being an old Beat Rodeo tune).
The albums leads off with the Fleetwoods' (ask your grandparents) chestnut Come Softly To Me as gentle and spare as can be, with Smith's vocals double-tracked to emulate the female two-thirds of the Fleetwoods. The recordings here are clean, crisp and unaffected producing a sense of sparseness that is most always present.
The rendition of the Louvin Brothers' I Wish It Had Been A Dream is guileless, with their intertwined vocals and a mandolin just tugging on the heartstrings.
Peter Holsapple's Moving In My Sleep (from the first dB'S album) is drawn out a bit more than the original, and with the intertwine of electric guitar and pedal steel over a basic backing and Smith's lovely soprano all on its lonesome it harkens back to those Laurel Canyon days.
Adam Roth's (son of famed cartoonist Arnold and brother of another old pal, Charlie) Little Jean lopes along on a modified Bo Diddley beat. While their rendition of the traditional number Baby Out Of Jail lands at that corner where Bluegrass and Rockabilly met one dusky evening.
Almaas' newer compositions aren't far removed from the early days of Beat Rodeo. There's the peppy, lap steel guitar (provided by Ms. Smiths' compatriot in Speedball Baby Matt Verta-Ray) colored 9 Times Out Of 10, co-written by George Usher.
And an old time stroll One Kiss At A Time, derived from the same rhythmic spring as Springsteen's Fire though gentler — even the guitar solo — and with a pretty as can be chorus where Smith's voice enters gently in harmony.
[Released by Parasol 2002]