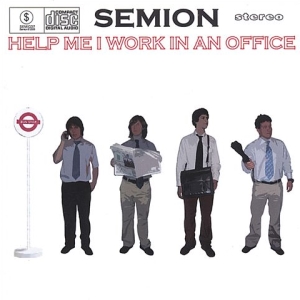 Seeing an artwork that is an obvious "cry" for The Beatles' Help, you just find yourself wishing and hoping that that there's more to it than just a witty cover and song titles such as Liverpool Sunset or Year Of The Monkee, which there is, thankfully.
Mostly finding themselves halfway between the American and their native, British interpretation of sixties influences, put through the early'80s, as well as more contemporary treatment, Semion come up with the usual common denominator for such parameters, widely known as "power pop", gazing throughout the traces of luminaries of the genre such as Teenage Fanclub, The Posies or Fountains of Wayne.
Also adding some of their own flavour to it, as heard in Rum Runner, Never Changes, Good Times and the already mentioned pair of Liverpool Sunset and Year Of The Monkee, all being catchy enough for you not to be put down by the same references which are being thrown around quite often these days.
The remainder of the content doesn't fall too far away neither, with just a slight detour or two, like the Blondie-ish discoid thing Rubbing Alcohol, with a touch of Swedish charm to it, the appropriately titled folk-rocking jangle of Jangle #1, the updated mid'60s garage beat of Black Cloud, the early Who-mor of Get A Grip, or the more laid back Love-ly jazzy chord progression of Honour and the folky, West Coast harmonies-fueled closer Friends.
So, let's buy a couple of these, just to get the guys out of the office and into the concert venues!
[Self Released/2006]