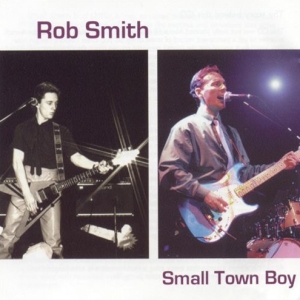 This is a collection of 4-track, home-recordings, that wasn't meant to be heard far outside of the mentioned home, but with songs like these, you just can't help it rushing out of the door and conquer the hearts and minds of the melody addicts all over the world.
There's no doubt that, sooner or later, this "small town boy" would've found his way into the BIG pop city. After spending some time in the eighties, giving "power to the POPeople" down under, Rob Smith is on his way back with some kinda audio-diary, summarising his career, while we're waiting for the "real thing" produced by the one and only Michael Carpenter. … and I just can't imagine what will the full studio-treated "real thing" sound like, when his DIY efforts sound just perfect!
Generally, this album is a non-stop "guess who game but still, the songs don't sound like plane copies but more like some long lost outtakes by some of your favourite bands/artists. It opens with two absolute killers called Be With Me and I'll Be Your Fool, the tunes that the Raspberries forgot to record when they were in one of their Beatly-moods and the other side of Eric Carmen comes in the shape of the heartbreaking ballads Winter Rain and She's In Love.
Citing Rob's own lyrics, "…talking about the song that's gonna take me to No.1" is exactly what the title tune sounds like, Summer's Here is a moderndaze treatment of the early Beach Boys concept and She's Got The Look is what you'd call the power-pop extravagance of the highest order.
Also, add the "Orbisung" Change Your Mind and the ELOrchestrated Penelope and you'll get the idea of Rob's mission.
[Self-released 2000]