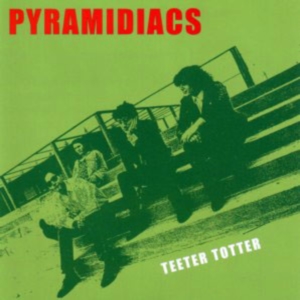 Well, it was about time. After seven years of wearing tags such as "power-pop rarity" or "collector's item", The Pyramidiacs' second album, released back in 1996 in Spain (to coincide with their Posies/Velvet Crush-accompanied tour) is finally being re-released.
Of course, according to the usual, it would've hardly happen if not for the effort of the band members themselves. Being the head of one of the hippest new record labels around these days, it was kinda expected of garage/pop-man-about-oz, Mickster Batty, to take responsibility for an action like this.
So, here it is again, in all it is sun-drenched-harmonies-mid'60s-chime-'70-crunch glory. There's hardly a filler on here, most of the content being divided between the ride on the Big Star 'Fanclub "bandwagonesque" (The Cleaner, There's Always Something, Don't Keep It From Me) and some more universal power-pop (Waiting, Take A Bow, It's Not You, Out Of Your Head).
When it comes to Australian guitar pop, trying to figure out who plays in which band, gets a bit confusing sometimes. In Pyramidiacs, besides Mickster, there's another all-round pop guy, whose involvement (producer, guest vocalist/guitarist Michael Carpenter) just cannot be of any harm.
You can also check out the skills of Mick O'Regan (alongside … guess who? ….. Mickster and Carpenter ;-)) in the fabulous Finkers and one of the latest pop wonders from Oz, The Richies, features the other half of the Pyramidiacs, Eddie Owen and Bob Susnjara as well as their mighty producer/drummer ….. who else than Michael C. again.
Anyways, the one and only question being left unanswered is why the Badfinger cover Just A Chance (included on the original release) has been left out ….. I'm off to ask Mickster about this right away … and while I'm back, I want all of you to have this one in your CD players … I mean it! …. Ooooooops, there's a hidden track too … guess which one? So, it's COMPLETE!
[Released by Off The Hip 2003]