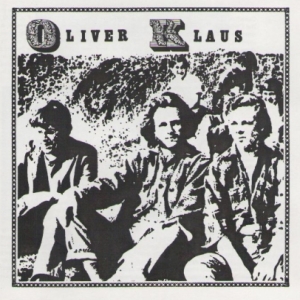 Pioneering the Canadian 2-track DIY aesthetics in 1969, Oliver Klaus' self titled album is finally available again, after it's initial 500 copies pressing, which was sold at the band's gigs.
The album is mostly referred to as a rock/psych classic, though it covers a bit wider range of sounds, with it's live-b-side fulfilling the classic rock agenda (with both originals and covers) and the studio tracks (a-side + unreleased bonuses) being what really makes it a worthwhile purchase.
The opener For The Boys is a strange little popsike-boogie, with British post-punk elements (Buzzcocks?), leading into a possible mini-concept (a thought based on the song titles) made of the stripped-down, acoustic folky pop Walk In The Night, their only single's sunny side Here Comes The Sun (Good Morning), sharing not only the title with The Beatles, with it's Apple studios' ambience, and the third one is Sunny Day, sound wise kind of a Quicksilver-playing-Sell-Out.
Feeling Groovy (not a cover!), the single's b-side, is a Stillsounding 'Springfield work-out, while Traveling Song goes a step further, having an obvious CSN&Y quality about it, if only arranged/recorded in a more "expensive" way.
The bonus-segment of the CD comprises several aspects of Hendrix influence (combined with Airplaneish Volunteering in Great Place For Laughing or Arthur Lee-d garage punk in Islands Float In Waterloo), some classic West Coastish sounds in Blackberry Side, a bit more polished 7" versions of both single-sides, as well as their '66 beat-pop effort, Do Love Me Do, with nice Mama & Papas-styled backing vocals, recorded as Les Notables.
Anyway, whatever your musical preferences inside of the genre are, if the second half of the sixteez is your cup of (spiced) tea, there must be at least something for you in this one.
[Released by Captain Moze 2001]