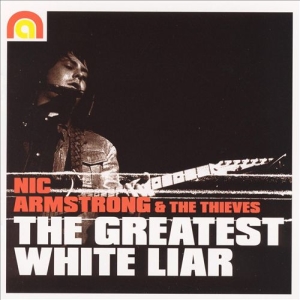 Another technicoloured sound illusion coming from the retro-futuristic lab of Liam Watson, sounding just as fresh as it is retro. Nic Armstrong's debut is kinda like an audio postcard, portraying everything that was happening on the British mid'60s r'n'beat scene.
In between the two frantic freakbeat numbers opening/closing the album (I Can't Stand It & Mrs. The Moraliser), there's lots of other swinging goodies to be found, from the pure r'n'b efforts in the vein of the earliest 'Stones (Broken Mouth Blues, On A Promise), through the mod-ish blue-eyed stomp of Natural Flair, to some gentler moments, when he tends to deliver beautiful folky ballads like In Your Arms, On My Mind, the Mersey-flavoured Too Long For Her or some Kinky sophistication of I'll Come To You and The Finishing Touch.
Back In That Room is another rootsy piece which could easily be what the 'Zeppelin would've sounded like had they started a few years earlier than they really did, She Changes Like The Weather offers some more of the folky feel, put through the longLA'sting influence of Lee Mavers, and You Made It True is the "brainy" one, which I suppose, wouldn't sound out of place on Odessey & Oracle.
In short, so far one of THE albums of the year!
[Released by One Little Indian 2005]