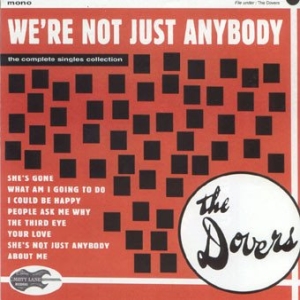 – The Complete Singles Collection –
I first experienced The Dovers through the early '90s cover of What Am I Going To Do done by The Chills/The Clean members' side project called The Pop Art Toasters, and ever since, I was eager to taste some more, which I eventually did, thanks to a couple of comp appearances.
Unfortunately, being in the middle of nowhere where I am, I missed Misty Lane's first pressing of this, and now after asking Massimo so many times about the possibility of the second pressing, I'd like to think that I contributed at least a bit for it to happen (don't spoil the notion Mass :-)).
Along with the mentioned What Am I Going To Do, with it's grand Spectorized chorus, which I still consider some of the best 2 minutes coming from the mid'60s, you'll hear nothing but pure 12-string jangle heaven.
It is divided between the brighter Merseybeat-influenced melodies of I Could Be Happy, People Ask Me Why and Your Love and a bit moodier folk rocking popsike of She's Gone, or the pair of The Third Eye and She's Not Just Anybody, sounding not unlike the Crosby-fronted Byrds at their folky/psych crossroads, with the punkier-than-usual attitude, and as the final statement, coming from the b-side of the last single, there's About Me, with an additional Zombie-eclecticism.
Once again, it is proven that The Dovers were "not just anybody", and I hope that this collection will see a dozen more re-pressings.
[Released by Misty Lane 2005]