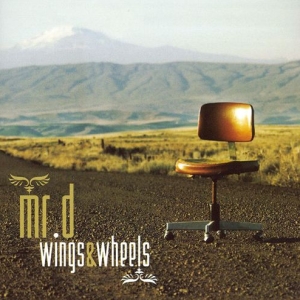 Glaswegians seems to have a special knack for making the distance between the West Coast of America and Britain almost non-existent. In general, what they tend to create is "a congregation of B-bands", all gathered on a single stage, with an ever-changing frontman spot. Mr. D isn't an exception, and with the particular way he's doing it, he gets to be filed alongside the likes of Teenage Fanclub and Daniel Wylie (with or without the early Cosmic Rough Riders).
In Island Girl, Late September and Somebody, Somewhere you'll hear the Sweetheart-era Byrds backing Badfinger, with David Crosby and Gene Clark joining McGuinn just for those good ol' '65 harmonies. Well, the latter one might've been allowed to bang the tambourine as well I suppose, but it's the folk-rocking jangle of I'll Keep Looking Around and Pick It Up, where he's taking the lead role, while the former is given his Gretsch guitar back, before he steps into the spotlight himself, with the slightlydelic closer Whenever You Get The Feeling.
Funnily enough, my favourite track happens to be the opening Fools Fall In Love, which is the only one featuring an intruder frontman in Neil Young, NOT fronting his own B-band.
[Released by One Inch Punch 2008]