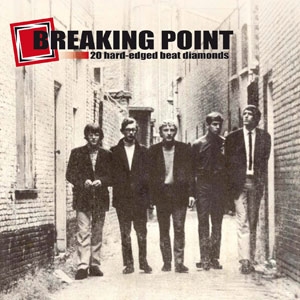 – 20 Hard-Edged Beat Diamonds –
Described as a sequel to Nothing Comes Easy, an earlier Nick Saloman comp on Psychic Circle, his latest "stack of vinyl" is really what it's title suggests. With just an occasional entry that I wouldn't really describe as hard-edged (but none the less of a diamond!), most of the content is an almost note perfect fit.
Most of my own favourites of the bunch, I'm hearing for the first time ever. Is There Time is the first of only two '65 singles of JAMES TAMLIN, and it's a Dave Berryesque r'n'b with a 'Smokestack Lightning'-reminiscent guitar lick, followed by Come Back Baby Now, THE MULDOONS' jazzy mod beat by way of Lindsay Muir's Untamed, and Rod Evans' and Ian Paice's pre-Maze band THE MI5, with a soulful r'n'b number Only Time Will Tell.
The title track provided by LEE GRANT & THE CAPITOLS is as close as a British act ever came to The 13th Floor Elevators early sound, and Andrew Loog Oldham's protégée GEORGE BEAN does the Jagger/Richards written It Should Be You, and while doing so, he sounds a lot like Georgie Fame.
Even though HAMILTON KING's I Wanna Live is nothing but another re-write of the Green Onions riff, this West Indian deserves to be mentioned for the future all-star line up of his Blues Messengers, that included at one point or another Dave Ambrose (The Brian Auger Trinity), Pete Bardens (Shotgun Express), and no less than the pre-Kinks Ray Davies himself.
If you still don't have any of the fab Psychic Circle comps, this would be as good a starting point as any.
[Released by Psychic Circle 2008]