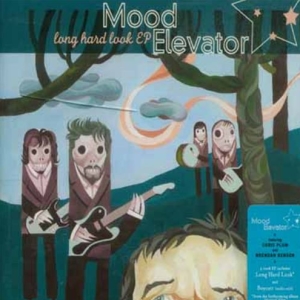 Back in the year of 2000, before Detroit became trendy (again!), The Mood Elevator were among the ones to defend the city's pop aesthetics.
Listen Up was an album whose kaleidoscopic soundscape went from essential (power)pop through something that can be described as "power-swing", then some mid-'60-beat twang and even Faces-like rawk, to the sophisticated, moderndaze view of Simon & Garfunkel's legacy.
The latter comes under the title Holiday and can also be heard as one of the new single's "b-sides". Had I not known who it really is, I could've swore that it's an outtake from Cherry Twister's eponymous pop masterpiece At Home With ….
The variety of sounds from the debut album continues here too, opening with the nervous, skinny-tied power-pop title tune, followed with the monster riff of Boycott, putting it somewhere between Big Star and Raspberries, also adding a more contemporary Fountains of Wayne feel and Samantha is a gorgeous vocal-harmony piece, sung over the latino-flavoured backing track.
After spending some time as the Well-Fed Boys backing him, the time has come to make the presence of Brendan Benson in the Mood Elevator an official one.
His role of a co-producer (with the band's own Chris Plum) and an unofficial multi-instrumentalist on Listen Up, is now expanded to also being a co-writer and a regular band member, which can't really hurt in "elevating" the band to the attention of a much wider audience, which they surely deserve.
[Released by Laughing Outlaw 2003]