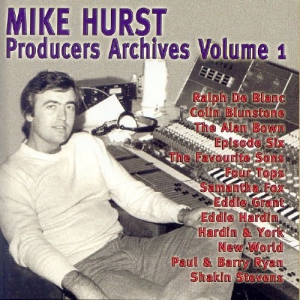 After the break up of The Springfields, Mike Hurst had started his producing career in the shadows of Mickey Most and Andrew Loog Oldham, doing the "dirty" jobs that the pair wasn't up to putting their names behind, eventually evolving to one of THE in-demand British producers throughout the 4-plus decades.
Considering the time range covered by the first two volumes, it's no surprise that both of them are a kind of a mish mash of sounds, but on each of them you're most likely to find quite a few classics that never were.
Most appropriately, the first volume opens with Paul & Barry Ryan's Spectorized popsike Keep It Out Of Sight, written by one of Mike's discoveries, Cat Stevens, and it's followed by the Episode Six's mix of musical drama and Bacharachian vibes, wrapped up in a bubblegum-ish arrangement with no "shades of Deep Purple" at all.
Of other sixties cuts, there's also The Favourite Sons' perfectly titled 1965 freakbeat monster That Driving Beat, The Alan Bown's return to their blue-eyed soul "set", fronted by Robert Palmer, and a pair of Colin Bluntstone's 1969 recordings, of which the first is a Zombified Never My Love cover, which wouldn't sound out of place on Odessey & Oracle, and the other one called Don't Try To Explain, is a gorgeous Van Morrison-like ballad, with a Procol Harum-inspired organ break.
In comparison, most of the post-'60s recordings are pretty lame, with only a couple of them worth of mention, more because of their historical significance, like the original Ralph De Blanc version of So You Win Again, or The Four Tops' discoid take on The Yardbirds' For Your Love.
[Releaded by Angle Air 2003]