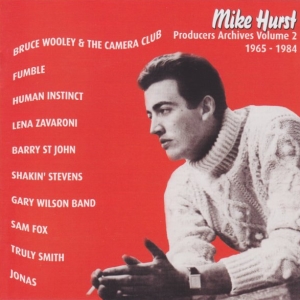 The structure of the second series' volume's post'60s segment, is quite superior, featuring Bruce Woolley & The Camera Club's original version of Video Killed The Radio Star, the glammy power-pop '72 good times of Fumble's Rock 'n' Roll School, or Lena Zavaroni's pair of Mann/Weil written early'60s girly pop pieces, released in '77 (!?).
Still, it's the '60s section that makes it even more worthwhile, with Mike Hurst's own 1965 recordings of the 12-string acoustic jangle beat of Show Me Around and the one that Mike says he hates called Anytime That You Want Me, though it's actually a more than a decent beat pop tune, most notable because it features Jimmy Page's first recorded solo.
The Kiwi popsters Human Instict deliver a pretty cool Britsike number A Day In My Mind's Mind, as well as a baragaroque version of The Byrds' classic Renaissance Fair, and there's also a pair of "Dusty" old upbeat pop orchestrations from '68 by Truly Smith.
Let's hope that Mr. Hurst will "get rid of the dust on the shelves, to be able to find enough for the 3rd volume", as he promised himself, and until then, dig out some other, more accessible works of his, like the post-Stivie SDG, Manfred Mann, early Cat Stevens, P.P. Arnold … or more recently Belle and Sebastian.
[Released by Angel Air 2004]