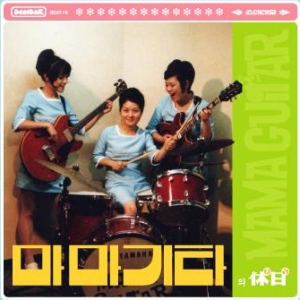 This is a funny little record. Nothing revolutionary, about this bunch of Japanese girls, only fun fun fun.
There are also several ways of describing them, some of which might be "Shonen Knife-with an authentic early'60s sound", or maybe "The Ronettes with guitars in their hands, mixing classic girl-group sounds with surfy twang", with song themes equally divided between summer, love and cars.
The thing is that their surf isn't' that of the most usual kind, but the one with an additional melodic twist or two, kinda like heard from Sloan'n'Barri's Fantastic Baggies, and what's interesting is that the only instrumental tune is actually the least surf-sounding one, being a cool little beat number, that we can only wish we could've heard with lyrics.
The one thing that tickles my ears is the band name. It might be that it sounds a bit more appropriate in Japanese, but in English, it kinda suggest anything but what you're about to hear.
[Released by Beatball 2005]