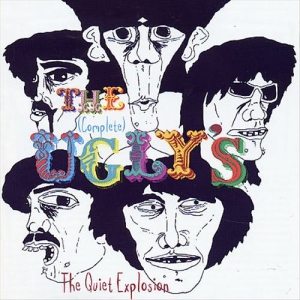 If there is such a thing as a soundtrack to Pete Frame's Family Tree, then the recorded legacy of The Uglys is as good as any when it comes to the Brumbeat scene.
Some of the most significant names that you will come across while analysing the band's ever-changing line up, are The Move, E.L.O., The Mindbenders, Fairport Convention …, as well as a couple that should be of interest to completists, such as The Exception, The Mayfair Set, The Lemon Tree … As for the music itself, in accordance with the mentioned line up fluctuations, it covers a pretty wide range.
The debut single offers their initial folky aspirations, featuring the protest theme of Wake Up My Mind (Aussie/N.Zealand Top10 single!?), owing much more to the British than to the American musical heritage, paired with the Dylan-ish growl of Ugly Blues (to which they'll return once again during one of the BBC sessions, with Morning, sounding kinda like Dylan himself, backed by The Move).
Surprisingly enough, by the time of their sophomore '65 release, it was time for the harpsichord-laden baroque pop of It's Alright (a pirate stations hit), coupled with the first regular beat number, the Mersey flavoured minor chord beauty A Friend, followed by the similar concept of A Good Idea, with the title tune on it's b-side, slowly leading the way towards an early Britsike sound.
1966 saw the first ever release of End Of The Season, already recorded by The Kinks themselves, but not released until some 12 months later, on Something Else …, backed by the good time-ih vaudeville of Can't Recall Her Name being not too far from Ray Davies' late '60s efforts itself, just like the following sunny-side And The Squire Blew His Horn, also adding as bit of a Sopwith Camel ride.
On the back of it, Real Good Girl continued where the title tune had left off, followed by the almost released '69 farewell single I've Seen The Light / Mary Colinto, showing off their genuine Move-ments in the last year or so, also evidenced through some of the unreleased material, such as This Is Your Mind Speaking.
Quiet or not, it was about time for this delayed "explosion" to happen!
[Released by Sanctuary 2004]