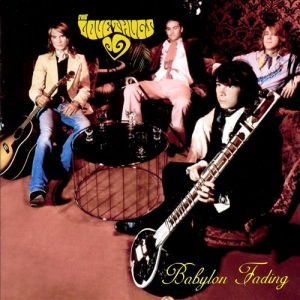 Full on dandy regalia, cool Frisco-like logo design, as well as a sitar in their hands, are all indicative enough of the mid-to-late '60s influences that you'll, naturally enough, expect to hear on this album ….. and kaleidoscopic sixties pop sounds are what you get indeed, but they're all mixed with so many other things that it's practically impossible for The Love Thugs to be pigeonholed.
What most of the tracks could be described like, is that they're all kinda like funny little audio mutants, mostly leaning on the many aspects of the Britsike sound, with general melodic quirkiness present throughout the whole thing, with the images of Syd Barrett, Ray Davies or Andy Partridge, alternately popin' in and out of the picture, with an ever-present smell of Kurt Heasley's Lilys, as heard in the opening title track, and also in Saturn Day, Save My Soul or I've Heard A Rumor.
Occasionally, when they speed it up just a bit, they're also capable of delivering some upbeat groovey mod stomp like Close Beside Her or Up For Love.
One thing that somehow doesn't really fit all of the above comments, is that The Love Thugs come from Norway, but one thing is sure, and it's that they learned their lesson well from the British instructors!
[Released by Rainbow Quartz 2004]