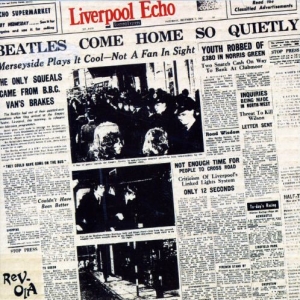 If you like the early'70s Mersey reminiscing of Rockin' Horse, there's just no way you can go wrong with this one. Simple as that … go buy now!!!
Even though the band name cannot be more suggestive, what this is about, is a pair of ex-Britsike Londoners (of Mandrake Paddle Steamer "fame"), realising that there's quite a bit Mersey-flavoured innocence missing, amongst all the glam/prog noise of the time.
Under the knob-twidling/ keyboard guidance of fellow Britsiker and ex-Synner, Andrew Pryce Jackman, Martin Briley and Brian Engel created what you can safely place alongside your "Swinging Pacemaker Search" files. The opening You Might As Well Surrender leaves you no other choice but to do exactly what its title suggests, with its riff being halfway between My Girl and The Ballad Of John And Yoko, while backing a classic Mersey-styled melody.
Some of the other highlights include Don't You Know I've Been Lying, based somewhere around the I Call Her Name middle eight, and the pair of You Know It Feels Right and No Not Again, with it's acoustic line that is sure to "really get a hold on you", both being not too far from the Arthur Alexander-inspired Fabs.
Girl On The Train and Sally Works Nights share the kind of a more universal beat vibe, being a bit closer to The Hollies than The Beatles, as is the case with No More Tomorrows, which also adds a some of the "Searching" folk-rock vibe, while Seems Like Today Will Never End is a '63/'64-Macca-like ballad, with an occasional (probably unintentional) nod towards Choir's I'd Rather You Leave Me.
Rounding out the overall concept, of course there's no way an album like this could do without some Star Club-daze screamers like If I Told You Once or the Day Trippin' piano riff-based Girl Said To Me.
In spite of it being almost unnoticeable back in the time of it's release in 1973, thankfully enough, the "echo" is still strong enough to be heard all over the world now!
[Released by Rev-Ola 2005]