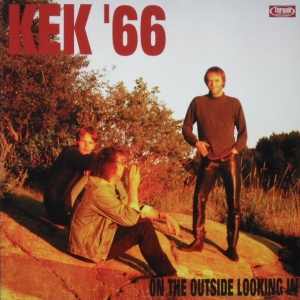 Risen from the ashes of The Kliek, Kek '66 has joined the mission of keeping the Dutchbeat sound high on the European sixteez scene scale.
This is the band's second album, which offers an authentic section of everything good that was goin' on around '65/'66 on both sides of the Atlantic.
As usual, there's a bunch of carefully chosen covers ranging from the garage-punk stylings of Bad Part Of Town (The Bare Facts), Too Bad (The Bad Roads), No Time To Rhyme (The Spirit) and You Got Me (The Prodigal) to the 12-string chime of Jackie De Shannon/Searchers' When You Walk In the Room and Randy Bachman's "animalism" One Day.
Still, the originals are what this band is all about, and there, you have it all, the folk-rocking jangle of the opening It's In My Mind, the moody "love" ballad Try To Fall In Love Again, or the beat-pop of Lie, Cry & Say Goodbye, sounding like some raw garage take on The Zombies sound.
Make Believe It's Nothing combines some of Neil Young's most sophisticated 'Springfield moments and a refrain that someone forgot to take to the top of the charts back in the mid'60s, Take Her Home Tonight will most definitely make you "feel a whole lot better" and they even explore some Russian sounding folk in Love Is Everything.
Thanks to the bands like Kek '66 or The Waistcoats, it seems that the time is near when it will be the American/British bands that will have to fight for their position on the scene.
[Released by Larsen 2002]