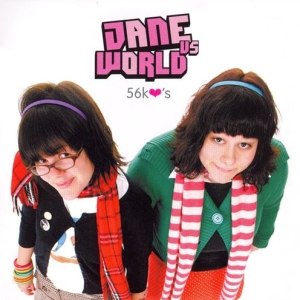 Remember Shampoo from the mid'90s?
Replace the trashy glam image with the kind of a bespectacled, nerdy-looking, cardigan-wearing pair of teenage girls, put them in the studio with an all-round pop-wiz (Michael Carpenter), let them write some insanely catchy tunes with witty, Fountains of Wayne-like lyrics, and you'll get pretty close to the strategy of Jane vs. World.
Among the six chewy little bubblegummish instant pop gems, my faves are the upbeat power-popin' pair of Sebastian Says and B-Grade Lisa Loeb, which it definitely isn't (!), and the Tilbrook/Difford-through-Jellyfish-sounding pair of I Used To Write Bad Poetry and The Subterraneans, and all this recorded without a single guitar (!), which is being replaced with the heavy use of keyboards, glockenspiel and kazoo.
It doesn't seem as they if they will conquer the world they're against, but they're sure having quite a good time, which they're likely to pass on to you too.
[Released by Pop Boomerang 2006]