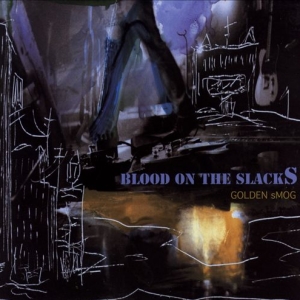 Less than a year after Another Fine Day Golden Smog make their quickest return, ever. This mini-album (9 tracks, one unlisted) strikes a distinct dichotomy between its two sides. Two of the songs on side A are from the sessions that produced A.F.D., no matter what the reasons they didn't get included these are no throwaways.
One is the lead-off cut, Can't Even Tie Your Own Shoes, a buoyant, highly arranged mid-tempo rocker which twists a propulsive rhythm with streaks of melancholy. Whipped up with highs of ringing, jangly guitar, piano, trumpet, tambourine and harmonized lead vocals, a stuffing of buzzing, fuzzed out guitar and a stratum of melancholy-laden, wordless "ba-bababa"s that form the choruses, it comes close to their finest hour, ever. Succulent and mesmeric barely describe it. That slides right into the first of two covers included here, Ziggy's Starman.
A thicker more present rendition that except for being minus the strings and the Bolanesque nods are downplayed, is pretty faithfully arranged. Weirdly enough even though it breaks Snyder's Rule of Covers by being 30 seconds longer than the original, it has less of a sense of dragging on than Bowie's. Then as a snippet of studio action rolls by we get hit by three bursts of Hardcoresque clatter to begin Look At You Now (the second holdover).
That gets replaced by a magnificent Bubblegum/Sunshine Pop tune with a bigger dollop of horns. Its sweet vocals and pumpin' 4/4, plus the horns place it somewhere between the 1910 Fruitgum Company and Mercury-period New Colony Six. After the third reoccurrence of those triplet Hardcore bursts the noise inexplicably rolls into 20 seconds of circus music to close out the track. After which they shift to Folk-Rock mode for a Dan Murphy fronted mid-tempo ballad, Scotch On Ice: acoustic guitars, brushes, multiple backing harmonies, and bits of Dylanesque harmonica with a few stabs at falsetto thrown in for spice.
Side 2 completes the turn into forlorn and spare. Magician, is a minute and a third long instrumental built on a latin rhythm (cascara?) with an overtly familiar* melodic figure created out of piano & synth, and eventually guitar. The lambent Without A Struggle trots along on a countryish rhythm colored mournful by touches of harmonica and slide guitar. But the true sparkle comes from Louris' yearning vocal and it's interweave with the backing harmonies.
That leads into the second cover, Dinosaur jr.'s Tarpit. A striking reimagining with the original's typical herky, Indie beats replaced by subtle hand percussion and Macis' heavily distorted guitar replaced by acoustic and airy slide guitars. Which lets the doleful beauty of the tune be carried to the fore with the vocals; not too mention their adherence to Snyder's Rules of Cover by shaving off a minute and a half
Here's where things turn strange with Murphy's Insecure; it's an acoustic guitar-led, raucous, clanging fifty-two second ditty, equal parts early Violent Femmes & Dead Milkmen. Then comes the unlisted, untitled number — just on the following grooves on the 12″ and after one minute and fifteen seconds of dead air on the CD. Another sub-minute ditty, another instrumental, this time bearing a pulsing, Wire-like Post-Punk guise. No why's or wherefores, just mysteries.
* (I usually slough these things off as being semi-senile since I'm a good deal into the last furlong of ending my first half-century. Why I can't place something so familiar, why the right synapse refuse to fire, even after more than a week? The little melodic figure in question is either from some commercial, or from what passes as an opening theme these days for some TV show, or a recurrent break announcement on some NPR radio show or from something that has always passed in the background somewhere. But once more I've failed in my attempt to bring forth the truth.)
[Released by Lost Highway 2007]