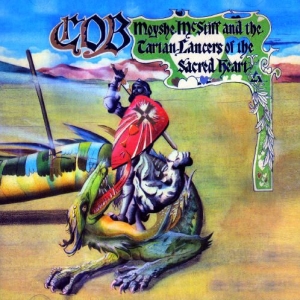 Clive Palmer, one of the pioneering British folkniks of the early sixties, and founding member of the original Incredible String Band, formed COB (Clive's Original Band) after spending a couple of years traveling the East, upon the release of the 'String Band's '66 debut album.
In between, recordings were made with Wizz Jones ('67) and the Famous Jug Band ('69), before forming Stockroom Five and Temple Creatures, eventually evolving into COB, alongside fellow folkmates Mick Bennett and John Bidwell.
Even though all they'd left behind were two albums in '71/'72, that were barely noticed at the time, the latter is now being recognized as one of the best Eastern influenced acid folk albums ever recorded. Soon enough, after the dark, almost baroque, psychedelic intro, turning into the band's characteristic so called wyrd folk sound (Sheba's Return-Lion Of Judah), you're about to realise why too.
What follows, might be a perfect melting pot of Eastern and English folk traditions, as well as biblical and love themes (Let It Be You, Solomon's Song), before the album's "mid section", featuring a couple of songs that, unlike those that preceded, could actually be compared to some more conventional melodic folk, that might even pass for commercial singles, while still retaining a dose of that quirky eclecticism (Eleven Willow, I Told Her, On Bright Eyed One, Chain Of Love), and for the album finale, they return to the British tradition, through what was later to be called acid folk.
Originally produced by another one of the scene's leading figures, Ralph McTell, this is the first ever official re-issue, remastered at Abbey Road studios from the original master tapes.
[Released by Radioactive 2005]