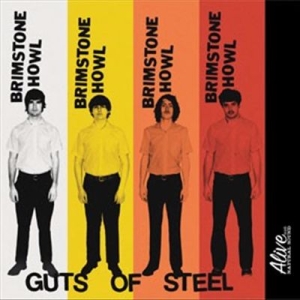 It might not appeal to the Howlers themselves if I say so, but I prefer their previous longplayer to the new one … so much that I was waiting for their gig here in Serbia, to be able to buy it on vinyl and hear it good and proper, as this kind of a thing is supposed to be heard.
As soon as the opening riff of Bad Seed kicks in, it's quite obvious that these youngsters from Nebraska have already had their dose of mid'60s garage punk nuggets, picking up other influences along the way, such as mid-to-end'70 New York punk, Sun studio rock'n'roll, and even some of the swampy Delta blues pioneers.
If you could imagine how Them would've sounded like had they been a late'70s punk band instead of a mid'60s r'n'b one, you'll be pretty close to what some of The Brimstone Howl's finest moments sound like (Red Glare, One Quick Minute). Or else, try putting Johnny Cash in front of The Remains, and In The Valley is as close as possible to what might come out of it.
On We Come In Peace, they're sticking pretty much to anything they were on about on Guts Of Steel, it's just that in the meantime they seem to have decided that their favourite band of the moment are the Ramones … or at least their way of displaying similar influences.
My own faves are actually the ones that would fit the previous album, starting out with the fuzzed out Catamite Blues, or the spooky Obliterator, with a Screaming Jay Hawkins-like voodoo vibe to it. Shangri La is kind of like mid'60s folk-rock on acid, as if played by The Jesus & Mary Chain, and Easy To Dream borrows the guitar line from Them's Here Comes The Night, making it sound like the banana-period Velvet Underground.
[Released by Alive 2007 & 2008]