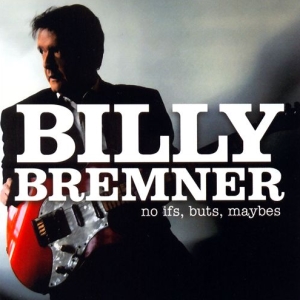 Having a CV such as the one of Billy Bremner, might as well become a pretty heavy load to carry around, with it eventually outgrowing the man himself, and becoming a possible listener's main focus, instead of the man's music itself.
Giving it a spin or two, you'll realize that his own stuff has a certain quality that might actually garner some of it's own audience, not at all aware of all the press release tidbits, meant for us record collecting geeks, who just cannot help but mention at least the spiciest of them all.
Such as Billy starting out as an axeman of Lulu's Luvvers back in the early '60s, then joining (ex-Big Three/Merseybeats) bassist Johnny Gustafson in The Quotations (backing The Walker Brothers among others), and later on teaming up with Nick Lowe and Dave Edmunds in Rockpile, before getting involved in the birth of The Rutles, and finally joining The Pretenders, not mentioning the countless studio work (Paul McCartney, Phil Everly, Junior Walker … to name but a few).
In spite of his Highlands origin, the overall vibe of the album is quite Americanized, ranging from Tom Petty-ish, or to be even more precise, Willburies-like moderndaze folk rock (The Real Problem, What Is The Reason, I Can't Name Them All, Only The Sound Of My Heart), through some more traditional country-ish feel, which actually doesn't get much better than Get A Job.
To the more upbeat, kind of blue-eyed soul feel of the title tune, and the Rockpile-reminiscent pub rocking pair of Knocked Me Over With A Feather and The Biggest Fool In Town, while the closest he gets to sounding as an actual British Islander, is while "squeezing" out an appropriately titled jangler called Where We Still Call Home.
No ifs, buts, maybes, nor any other doubts about this album being worth checking out.
[Released by Prima 2007]