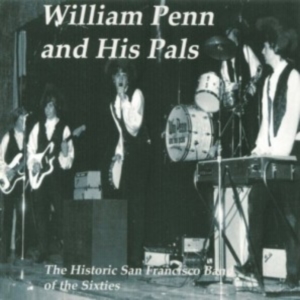 (+ Mike Shapiro – Déjà Vu)
Before it became the center of the psych-universe, the Frisco bay area was just as important in shaping the mid '60s folk-rock/garage scene. Among the bands being almost taken away by the hands of time (which did not happen, thanks to the Pebbles appearances cementing their name forever on the garage-punk maps) were William Penn and His Palls.
After releasing his own solo record in 2001, appropriately titled Deja Vu, the band's main songwriter Mike Shapiro, sheds a light on his "pal's" complete recorded legacy. Though consisting of only 6 songs (plus three of them re-recorded after the line-up change) this CD provides 23 minutes of pure folk-rocking-garage-beat nirvana.
Their only single's a-side (released as Wm Penn & The Fyve), Swami, kinda predating the "birth of SF Sorrow" by two years, was enough to secure the band's cult status, and it was backed with an equally great, MODern freakbeat of Blow My Mind (think early British Birds).
I'm not sure if the overall sound fulfils the "hard rock Tottenham sound" definition from an old add, but back then, you couldn't get much harder than Far And Away, and they could also get extremely melodic, as heard in the super-jangly Gotta Get Away or the Mersey flavoured I've Said It Again, which (on the Coast Recording version) sounds like the Beau Brummels backing McCartney on some of his '64-tunes.
As for the mentioned Déja Vu solo album; released as Shapiro, it's a nostalgic retrospection, made of songs that Mike wrote over the past thirty years, proving that he's still got it.
The songs range from the classic Berry/rockabilly sounds (Home Free, A Little Bit Of Love), through the mid'60s janglers like the Holly/Beatles influenced Roll Away The Blue, the Merseybeat-ish It's Up To You, the Byrds-like 12-string jangle of Your Crying Is Already Done, or the ballad Running To The Shelter, to the '70s sounds of the Raspberry-flavoured power-pop (Come On, Two Faced Girl), a Stoned rocker (You Turn Me On) and even some "feelgood"-pub-rocking (Rock And Roll Star).
Of course it's the William Penn period that raises the excitement here, but Mike Shapiro's moderndaze sound also equals most of the contemporary (power)pop releases.
[Released by Beat Records 2003]