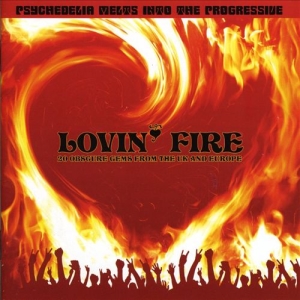 – 20 Obscure Gems From The UK And Europe Psychedelia Melts Into The Progressive –
Being a complete opposite to the British beat era gems from Ballroom Beat, the other one of the label's first two releases (reviewed elsewhere on these pages), as quite precisely specified by the subtitle itself, this one covers the more adventurous (which doesn't always necessarily mean better) side of the turn of the two decades, also compiled by what seems as the main "psychic" archivist, Nick Saloman.
Opening with the no-brainer, Steppenwolf-through-AC/DC, hard rawking headbangin' riff, with a touch of Les Fleur De Lys-like freakbeat as well, heavy Dutchbeatsters SILENCE (!?!) still manage to throw in enough harmonies to keep them close enough to the passing psychedelic era.
North Lonodn's IPSSIMUS sound as if The Yardbirds had continued their basic '65/'66 concept until the end of the decade, without too much of a change, except for becoming a bit heavier, followed by THE WARM SENSATION's classic piece of John Carter co-written popsike, getting quirky just as much as it takes to "melt into progressive".
The pair of APARTMENT 1 (Holland) and MAYROC (UK) provide us with the Hendrix-through-Nazz kind of a punch, LEFT SIDE sounds as if making Louie grow his hair beyond shoulder-length, and therefore, kind of taking their own Dutchbeat past as The Beat Boys into the next decade.
THE EXCHANGE AND MART sound as a pretty decent British answer to the CS&N kind of West Coast harmonizing, ANDROMEDA (NOT John DuCann's, but the post Felius Andromeda one) sticks pretty firmly to it's previous "rainbow chasing" by way of a folky Britsike, while the following one by WHICHWHAT is a more conventional, but non the less great Britsike approach as well.
The fact that only three of the entries exceed the four-minute limit (but none by more than a minute and a half), is a proof good enough that there's still lots of psychedelia here to melt, before it gets too progressive.
[Released by Psychic Circle 2007]