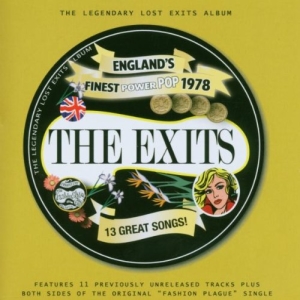 With a kind of a pop-art-ish take on the notorious Ogden's Nut Gone Flake album cover, along with the fact that The Exits are actually Geno Buckmaster's and Colin Swan's pre-Direct Hits band, this is a must for both contemporary modernists, as well as for those still waiting to "exit" the initial days of the "hits".
While they still weren't bitten, and therefore entirely chewed up, by the influence of The Beatles and The Who, and while it had still been called ("England's finest") power-pop of the day (1978), they quite often came off sounding as if their "aim was true", as touched by the hand of Elvis … Costello that is (Fashion Plague, Fool To Fall In Love, School Of Intrigue, Index Linked), with just an occasional extra pin of punk-ish attitude (Cheam).
While not getting too far from the initial idea, We Broke Up Today also adds a bit of the Mersey vibe, along with some catchy sha-la-las (by way of Baby It's You), ending up kind of like their soon-to-come soulmates, Anthony Meynell & Squire.
Though filed under "pretentious nonsense" by Colin himself, Revolt In Style happens to be a decent little blue-eyed soul number, predating the future style of Style Council, This Toytown World displays a kind of a Graham Gouldman-like moodiness, while Chantelle takes it towards the janglier side of things, having been written to order (and unfortunately turned down), for a BBC2 detective series, set in 1960s Marseille.
Of special importance for Direct Hits fans, there's , which is actually the first ever recording made by the band, and which also, for these ears at least, happens to be the album's highlight, borrowing a hook or two from The Zombies' take on Clint Ballard Jnr's Got To Get A Hold Of Myself.
Even though each of these tracks seem to "hit directly" at the catchiest and most melodic side of British post-punk scene, it seems pretty hard to believe that this is The Exits' second ever official release after the Fashion Plague single from the spring of 1978.
[Released by Rev-Ola 2007]