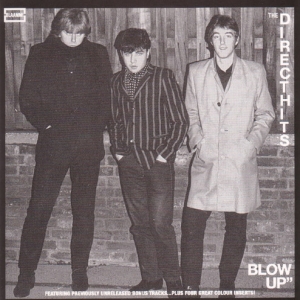 According to the accompanying liners, provided by their soulmate Paul Bevoir, if his own band The Jetset, were The Monkees of the mid'80s swinging(again) London scene, and if The Times were The Kinks, then The Direct Hits were The Beatles.
Not far from the truth, though I'd say that the 'Hits were capable of being all of the above at the same time, and even adding a thing or two to make the audio kaleidoscope even more colourful.
I'm not really sure who's behind the appropriately named Blaamm! label, but it's kinda shameful to see an album of such a cult status being re-released on a kind of a private level, though whoever's done it, did a wonderful job, complete with lots of bonuses and even collectable band member cards.
The mentioned audio kaleidoscope, starts off with the power-popin' Diddley stomp of Ever Ready Playing, followed by the jazzy pop sophistication A Place In The Eighties, which, as Bevoir says, could've been God Only Knows in case that Blow up! was Pet Sounds.
Naughty Little Boy is a quirky little piece of Who '66/'67 popsike, and by the end of the album they also delve into their own "quick one", which isn't that quick of course and is called Henry, The Unhappy Inventor.
There's also an additional demo version among the bonuses, and after summarizing both of them, you get an incredible omnibus of technicolour sounds, gathering some more of the obvious Who-mor, traces of Syd's melodic lunacy, some Hollies-inspired background vocals, a guitar Move-ment or two, and even an opening which sounds kinda like a folkier take on The Litter/Electras' Action Woman.
Miranda Berkley is a genuinely British-sounding, plain jangly pop perfection, sounding not unlike some of Martin Newell's works, and while we're at it, Too Shy and What Killed Aleister Crowley? are a pair of late'60s Britsike-lings, with the latter being a kind of a Kinks-through-Jam work-out, while My Back Pages might've been an imaginary early-Lennon/Paul Simon collaboration.
Among the rest of the bonuses, worthy of special mention is the beautiful b-side to the Ever Ready Playing single The Ordinary Girl (about a girl that I think must've been "curly"), as well as the freakbeat-ish "creation" of Ride My Bicycle and yet another pair of Who-ish-through-Weller tracks, The Time It Takes and an alternative version of Girl In A Picture.
Two years after their debut album, the direction that The Direct Hits were hitting, sounded just a bit less adventurous, and therefore kinda more consistent, as heard on the comic book-inspired sophomore LP, The House Of Secrets.
Basically, it tends to leave a kind of a Rubber Soul-ish impression, with an occasional American-influence creeping in, resulting in a more paisley popsike sounding numbers such as the opening My Car, or I've Got Eyes with it's moody Thoughts & Words feel, and Heat And Sun, which is a perfect Beatles/Byrds combination, sounding as if If I Needed Someone was recorded during the Revolver sessions.
I've Got Eyes is pure '67 Lennon, Christina might've been John's Eleanor Rigby, She's Not Here, There Or Anywhere finds The Beatles'65 "thinking for themselves", and the folky She's Not Herself Today finds it's place somewhere between You've Got To Hide … and Norwegian Wood, while Is There Anyone There might be this album's Got To Get You Into My Life, preceded with yet another piece of blue-eyed soul called (Just Like An) Abacus.
Before we see some (more) official re-releases than this, however they come, The Direct Hits hit right in the middle of the target!
[Released by Blaamm! 2004]