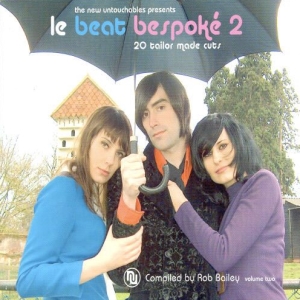 Second in the series of what becomes a soundtrack to the international mod London rallies of the same name, Le Beat Bespoké 2 brings another set of late'60s/early'70s "Tailor made cuts" from around the globe, compiled once again by Rob Bailey of The New Untouchables Mod/'60s promoters.
As they put it themselves, "the one thing that every track on this release has in common is that they are all bought with one thing in mind : THE DANCE FLOOR!", which they surely make clear right from the opening heavy Hammond organ-isation of PAPPYS HAUNTED HOUSE's Dude, followed by a whole bunch of equally heavy, funky soul stompers such as JIMMY THOMAS' Springtime, THE PALACE GUARDS' Gas Station Boogaloo Downtown, or THE MOODY FIVE's Blue Tail Fly with it's super groovy bass bravados and Marriott-like growl, as well as the Blue Cheer-like monster-fuzzed out Her Own Life, delivered by E.G.SMITH & THE POWER.
The pair of DICK TURPIN's Madeline and PROUD FLESH's Happy spice things up with a drop of Britsike and THE TOPS' I Found You deals with more of a universal psychedelicate vibe. On the feminine side of things, THE MARTELLS' Time To Say Goodnight is a slice of girly garage, BRUNETTA & THE BALUBAS' Baluba Shake, in accordance with the name, shares a kind of an exotic punk style, if there ever was such a thing, while LUISA JANE WHITE's Truth In My Tears recalls the moody minor chord structure of Betty Everett's You're No Good.
So, "put on your high-heel sneakers" and get on the dance floor !!!
[Released by Circle 2006]