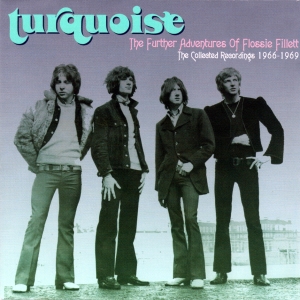 – The Collected Recordings 1966-1969 –
Not unlike with their Apple Publishing-mates, as well as soundalikes, Focal Point, not The Beatles nor any of the big time connections such as The Who, The Kinks, The Rolling Stones and Spencer Davis Group, could've been able to provide Turquoise with a more significant place in rock history, than just an occasional "rubble" in the overall Britsike scheme of things.
As suggested by the subtitle itself, this release compiles the band's complete recorded output, including their two Decca single releases from 1968. Echoing their Muswell Hill origins, most of the songs are highly reminiscent of The Kinks' output of the period, clearly audible in Davies-like observations of neighboring life such as the pair of b-sides, Tales Of Flossie Fillett and Saynia, and obviously Village Green (NOT a cover!), which is actually a demo produced by none other than Keith Moon and John Entwistle.
While we're at it, one of the unreleased songs called The Sea Shines also adds a touch of 66/67 Who-ish wittiness to it, Sunday Best sounds quite a bit like Steve Marriott at his cockniest, the supposed 2nd single Flying Machine kinda recalls The Creation's Nightmares, while Sister Saxophone is another Kinky vaudevillian ditty.
Of the singles' sunny sides, 53 Summer Street was rightfully chosen for the debut one, being in the vein of commercialized late '60s pop sound of the 'Hermits or The Hollies, while also still Kinky enough, and Woodstock (released a year before the festival happened!) is a Jimmy Miller produced, goodtime-ish rocking tune, again done not unlike the Davies brothers used to do such things towards the end of the decade.
Let's hope that thanks to Rev-Ola, Turquoise will get a chance for at least another "adventure" or two themselves.
[Released by Rev-Ola 2006]