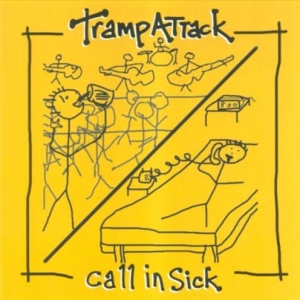 After being "blamed" for initiating the folky psych excursions of the Cosmic Scouse scene formed in'n'around Liverpool, and after leaving the garagey electric approach of their initial line-up, also featuring now-Zuton Dave McCabe, Tramp Attack delivers their second full-length, this time opting for a more traditionally laid back, skiffle production, sounding more like the neighboring Hokum Clones, than their former selves.
Besides a couple of classic country sing-along, they also throw in lotsa different influences, while always staying within the same concept, such as the Motown-ish groove of City, the 'Spoonful-ish goodtimes of Lost Cat Letter, the jazzy swing of Musical Differences recalling the equally goodtime-ish vibes of Sopwith Camel, then there's also the upbeat late'50s feel of Late Night Shopping, as well as a drop of vintage acid-folk in Learn To Swim.
While there's also some of the early (US) Charlatans-like, or Dan Hicks' Hot Licks-era mysticism to be heard in the otherwise just as traditional sounding Half The Story (also occasionally reminding of The Kinks' Harry Rag), Mr. Sun, Get Well Soon or the bluesy mood of Fake Suicide.
Supposedly being known as the bands' favourite band about town, it seems like a perfect moment for Tramp Attack to gain some more serious "out-of-town" recognition too.
[Released by Viper 2006]