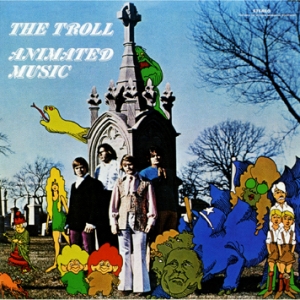 After releasing a bunch of more straightforward pop singles between '66 and early '68 as The Trolls, this Chicago-based band re-emerged later in the year, shortening their name to the singular The Troll, to record an album, today regarded as one of those sought after underground psych classics.
Contrary to the expected, and most of their windy town neighbors of the time, this is a rather British sounding record, with just a hint or two to their native legacy.
In fact, the opening Satin City News is a noisy assault, carried on the wings of an "iron butterfly", but by the time of the following Mr. Abernathy, the overall popsike mood of the album is being set, sounding not unlike The Monkees at their most ambitious.
Fritz Und Sweeny is a folky ballad turning into a BST-styled horn fueled gem, followed by another appropriate horn section used besides the Macca-ronie bass pumping of the heavy Britsike sound of Everybody's Child, and yet some more Pepper-y protest of I've Only Myself To Blame.
The next is a genuinely British sounding pair of the most appropriately titled goofy toon-town prototype Professor Pott's Pornographic Projector and the similar vaudevillian ditty Have You Seen The Queen, followed by the genre-defining quirky psychedelicate piece called Mourning Of The Day, with some more Iron-ish organ-isation, as well as all the studio trickery available at the given moment.
Things calm down a bit with the lovely baroque pop orchestration of A Winter's Song, before the final scary freak show of sometimes even brutal sounds of Werewolf And Witchbreath.
Even though it might be a bit out of context, the addition of the pre-album single sides would be more than welcome for the complete picture.
[Released by Radioactive 2005]