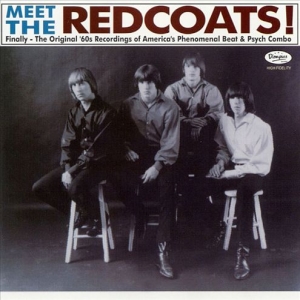 Though mostly referred to as another Beatles soundalikes, which eventually kept them from reaching the heights they certainly deserve, the quality of The Redcoats' tunes is such that it must've felt like there were actually two of them (Beatles) at the time, both equally great.
This exceptional release collects most of their recorded output, covering two phases, the mid-'60s and the late-'60s sessions. The former is made of mostly Mersey flavoured sounds, split between the classic Merseybeats of You Had No Right, Another Took Her Place and Back To His Door (here and there spiced with a freakbeat or two as well as some moody ambience in the vein of the Scottish Poets), an early-Lennonized ballad When Tomorrow Comes and the Kinky garage punk riffage of Baby Don't Go.
Their only single, released in 1965, was the Hermitsounding (as preordered by their label Laurie!) The Dum Dum Song, backed with the Macca-like Everlies impersonation, Love Unreturned.
The second phase, naturally, took them a bit further, also exploring the John-kind-of-a-balladry in Words Of Wisdom (coincidence?! … I doubt it), revisiting the Penny Lane in Opportunity and, like on any other decent "Beatles album", there's also one of those Ringo-tunes, called Sing A Song.
Besides the obvious Liverpudlian references, on more than one occasion the lead vocals will remind you of the young Bowie, most notably in the fuzzy "revolver" shot Man and in Sunny Man, a nice example of British popsike.
It was really about time to "finally meet" The Redcoats, so don't miss the opportunity cuz you'll be missing some of the sixties' shiniest moments ………. again.
[Released by Bacchus Archives 2002]