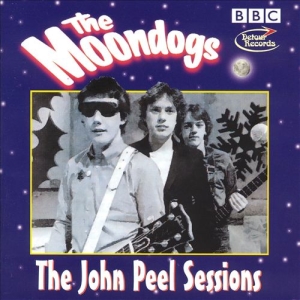 Another great find, rescued from the '80s vaults by the mighty Detour label. The Moondogs were meant for much bigger things than they were actually allowed to do.
With The Beatles reference in their name and one of the band members' name being Austin Barrett (!?), as well as having Ray Davies and Todd Rundgren for producers, they just couldn't go wrong …. but, unfortunately, some other things did.
Anyway, they still managed to leave an impressive legacy behind them and this is just a snippet of it. The first session, recorded in 1980 balances between the Rubinoosed vocal harmonizing and Buzzcocks/Undertones-like punkier new wave approach, featuring their classic Who's Gonna Tell Mary?.
The second session, recorded a year later, represents an experienced (though not necessarily better) band, a bit more polished sounding, with Dream Girl and I'm Not Sleeping almost stepping into the "new romanticism", blending the previous (buzz)cockiness with the kinda echoey Magazine- production, while the other two songs are some sort of a quirky sounding r'n'b.
Besides all the mentioned star references, The Moondogs even had their own "Monkee-business" TV-show, which could've taken them to their own "moon".
Now that they're given the second chance, let's hope they'll catch a ride.
[Released by Detour 2003]