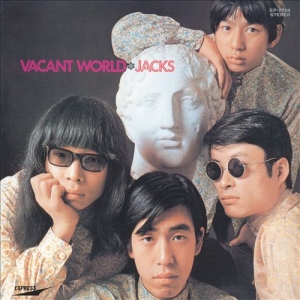 One of the several concepts covered by the recently established Erebus Records is to re-issue Japanese late'60-early'70s music, and according to the press release, I'm inclined to believe that it might've been inspired by Julian Cope's Japrocksampler. Whatever the reason, I'm pretty sure most of us would've never heard some of these had it not been for these re-releases … necessary or not.
The Jacks are probably the only ones some of you might be aware of. Someone's description of them sounding like "The Velvet Underground played by free jazzers" is as close as it gets. The content of this '68 debut, is steeped deep in their specific brand of moody acid folk, with the Japanese vocals providing an additional creepy vibe, just occasionally giving way to something that might be considered to be slightly more conventional sounding. The latter is best heard in Love Generation, Bara Manji, or Where?, all of which should suit the usual '60s garage-heads. Vacant World is said to be "one of the most important Japanese rock albums of the era", which you may or may not agree with, but it's definitely THE most original and unusual, to say the least.
Speed, Glue & Shinki's '71 album Eve, is a perfect template of what's commonly being refered to as heavy acid blooz with a stoner vibe, as clearly suggested by some of the titles like Mr. Walking Drugstore Man, Stoned Out Of My Mind, M Glue or Someday We'll All Fall Down. However derivative it all may sound, the powerhouse rhythm section worthy of Mitch'n'Noel or Moonie'n'Ox, along with a Japanese "guitar-hero", is sure to provide you with thirty something minutes of sweaty headbangin' and air guitar strum.
On the contrary, Melting Glass Box's sole '70 album is yet another half hour of what's probably the closest the Japanese have ever gotten to acid folk, along with The Jacks. Conceived as a studio project only, the band's all-star line up might be of interest to Jap-rock fans, featuring ex-members of the mentioned Jacks, Blues Creation, Apryl Fool and Five Red Balloons. I'd personally find it more interesting had it been sung in English, but in Japanese, it happens to sound even trippier, with the voices occasionally sounding almost like an additional (most) psychedelic instrument.
[Released by Erebus 2008]