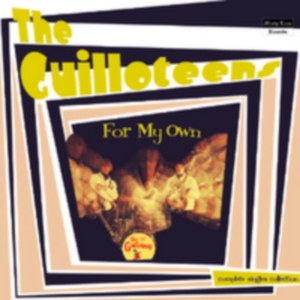 There are so many intriguing facts about The Guilloteens, that it's just impossible to stay indifferent. They were the first musical act under the shelter of Hanna-Barbera, a fellow Memphis-resident named Elvis, proclaimed them one of his favourite bands, the line up was made of ex-Mar Keys touring members and they were even offered to be produced by Phil Spector, a chance blown by their inpatient manager, making them go "from the wall of sound, to Huckleberry hound", as they'd put it.
Still, the legacy they'd left on their five singles throughout '65/'66, sounding like a various artists' compilation thanks to the variety of sounds they's achieved with every new release, was enough to secure them a place in the sixteez garage encyclopedias.
It started a bit predictably, with the debut single's Kinky garage riffage (Hey You), backed with the folk rocking jangle, alongside an almost Walker-ish croon of I Don't Believe. The same year (1965) brought some more 12-string twang, finding them "searching" for the perfect folk-rock sound in For My Own, paired with the Paul Jones-flavoured Beatley ballad Don't Let The Rain Get You Down.
The first single in '66 was I Sit Down And Cry, which, I believe, doesn't quote the Brummels' title Sometime At Night accidentally, while the b-side follows the same path with the countrified folk of Crying All Over My Time.
Wild Child was a kind of a step forward with it's "raiding" frat rock sound, while it's b-side, reminiscent of an early Macca ballad with the vaudevillian when-I'm-64 arrangement, You Think You're Happy, enters the happy-go-lucky harmony pop area, kinda introducing the vibe of the next release, made of the Davy Jones-like Monkee business, called Dear Mrs. Applebee and the harmony drenched blue eyed soul of I Love That Girl.
As a bonus, you also get the bassist, Buddy Delaney's post-Guilloteens release, which is actually a re-working of the band's debut, re-named Girl, that doesn't really match his band's development.
It's a pity that they hadn't continued what they'd started, cuz I'm sure their album would stand alongside the harmony pop classic of the time.
[Released by Misty Lane 2003]