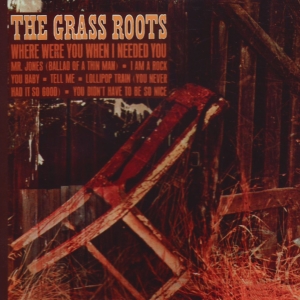 It was about time for someone to unveil the mystery about the roots of The Grass Roots, and Rev-Ola does it in the usual rev-ola-utionary way, assisted by the band's own Joel Larson, whose memories are transformed into an informative story by Shindig magazine's Jon"Mojo"Mills.
Of course, those of you familiar with the band's recorded legacy, will be well aware of most of the content of this re-release, but the overall package, along with the early single sides and demos of the period, all make it more than worth the purchase, no matter how much "grass roots" you already have grown.
If you still happen to be one of the poor little "rootless" ones, get this to experience the essence of the folk rock genre (Where Were You When I Needed You, Lollipop Train, This Is What I Was Made For), as conceived by the writing/producing team of Phil Sloan and Steve Barri.
With an extra glance or two towards the slightly rawer fuzzy garage sound (You're A Lonely Girl), classic harmony fueled beat pop (You Baby, Look Out Girl, I've Got No More To Say), or even something that could've pass for a folky-pocket -symphony (Only When You're Lonely), if there ever was one.
[Released by Rev-Ola 2005]