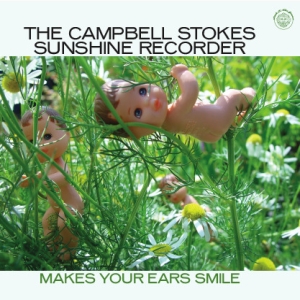 The name of Andy Morten might ring a bell to those of you familiar with the editorial of the Shindig magazine, or some of the best British re-releases from the '60s, out on the Rev-Ola label during the last couple of years.
However, as with some of his fellow pop archivists such as Andrew Sandoval or Steve Stanley, not so many of you might also be aware of another one of his professions, which is pounding skins for such "backwards-looking, forward-thinking" (power) pop luminaries as The Nerve or Bronco Bullfrog, as well as strumming acoustic guitar for Leonardo's Bicycle, or a noisier, electric one for moderndaze Britsike stalwarts Little Bare Big Bear.
Initiated by a bunch of demos recorded by none of the mentioned, CSSR is his latest DIY vehicle, bringing all of the above under one roof, which happens to be the one of his own home. Bronco Bullfrog fans are sure to be the ones drooling upon this the most, because the usual Hollies-backed-by-The-Who-going-Britsike kind of technicolour power-pop vibes are a plenty.
There's at least two hit-singles-in-the- making as well, with Tony Hazzard of course being an intentional tribute, to the extent that it could've almost been included as a bonus on Rev-Ola's re-release of Tony Hazzard Sings Tony Hazzard, while Olivia's Plaything, with it's instantly catchy guitar riff, sounds as if it would've fitted on any of the solo albums by another Campbell, that is Liverpool's unsung hero Jimmy. "Too sloppy for power-pop … All the chord progressions sound the same … Too poppy for rock'n'roll … "?!?! Naaah. "Too busy to form a band … Got a lot of stuff planned"?!?! Seems so, but thanks for sharing some of it.
[Released by Jack O'The Green Records 2009]