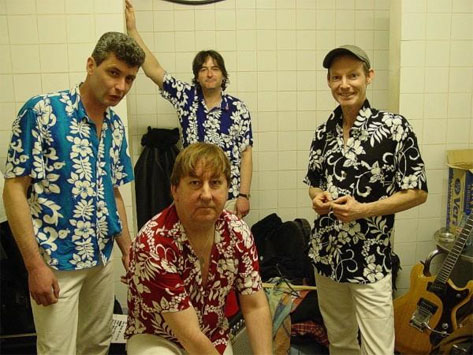 (Disclosure) The Surfin' Lungs and me go back some 25 years. In all that time their focus has remained as tight as an excimer laser on, you can surmise from their name, what's known colloquially as Surf Music – the close harmony variant descend from the tree (a little grafting here, a little pruning there…) that was the Beach Boys. Between 1985's Cowabunga and this new release Geoffo was replaced by Clive (keyboards and guitar); there has been a string of successors to Al on the drum throne – the current one being Sputnick, – Chris's voice has gotten a bit deeper with age; Steve still gets about one lead vocal per album (see After All This Time); and their overall sound seems cleaner than ever (even She's a Surf Punk has a relatively crystalline lead guitar).
When you think of this style of music you think of Summer. So it might be logical to release such music as that season approaches. But I think it is the counterintuitive view that is correct: That it's not when you are ensconced in 90F heat with 90% humidity that you want to feel all Summery. But when a foot of snow is on the ground and it's a good day when the temperature rises above the freezing point of water, that you get all nostalgic for that season and thus find this music most tantalizing. At least that's my excuse for taking so long to finish scribbling this. 'Cause today I spotted my first snowflakes. They probably only came down for ten minutes, but you just know it's a harbinger.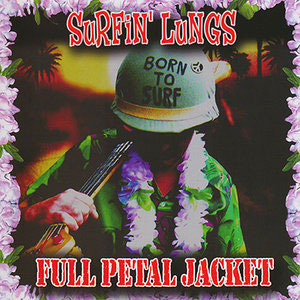 The one thing that disappoints to a minor degree is that after all these years sometimes their chorus lyrics remain a bit cliched and/or a bit simplistic, i.e.. "…She's a surf punk and she don't care/ She's a surf punk with long blonde hair/ She's a surf punk and she don't care-yeah yeah / She don't care…" (Even they might have had an inkling since the lyrics of Surf Bus is reduplicatively printed as the lyrics for She's a Surf Punk.) On the other hand the "Bubble bubble gum gum / Bubble bubble gum gum" chorus of Bubblegum Summer taken as just syllablization to meet the meter works quite well amongst the time jumping perspectives of the song's narration.
While the aforementioned After All This Time comes closest to non-genre specificity, it also might be the most complete integrated: between the heartfelt lyrics, the way they slide across the melody from verse to chorus and on, the subtle backing harmonies, and tight, articulated instrumentation. (Oh, and thrown into the pot are two adroit instrumentals, 97XF11 and Ungawa.)
Taken as whole as whole there is just no denying the fun and craft found in this album. The waves of spot-on harmonies, the little shifts in guitar from Carl Wilson's easy picking to Duane Eddy's twang to Al Casey's rumbling tone, the nimble drumming and the déjà vu melodies. It's just about compensates for my furnace's lack of ability to keep the frost off my knuckles as I type this.
[Released by Wild Punk 2010]
Surfin' Lungs website