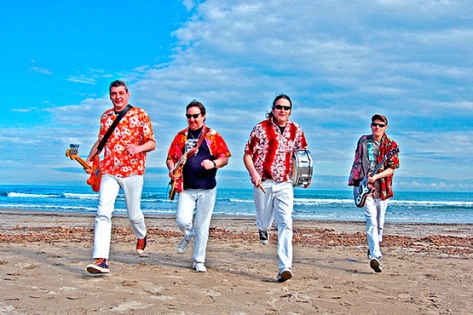 I should first inform you that I've been friends with these guys since the mid-'80s, after coming across their debut self-released single. For years we were supposed to do a feature in the old rag, but life sometimes gets in the way and, as I've said before, I'm a screw-up.
Anyway, they're a four-piece – bass, drums, guitars and keyboard — Vocal Surf Music combo, a bit more Jan & Dean than Beach Boys sounding. They hail from the landlocked English burg of Bracknell and put out records on a label in Spain.
Instrumentally they have a light Garage-Rock undercurrent, generated by the "Farfisa" organ and the guitar stylings — only occasionally, mostly in the instrumentals, do you get that classic Dick Dale, reverbed, vibrato guitar twangin', mostly it's a mixture of clean, sinewy or jangly leads.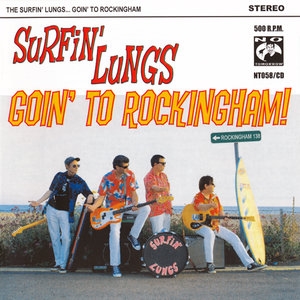 The key though is the vocals, lead singer Chris Pearce's slightly nasal tenor backed by stacks of some of the most perfect backing harmonies out there, which are wrapped around more immediate melodies than last decade's pile of Neo-Soul. Except for their chosen vernacular I can't believe the IPO/Audities listserve crowd haven't taken to them like the proverbial duck to water.
As time has marched on — and wives, kids, ex-wives and bandmates — they've pretty much stuck to the classic teenage themes: Surf, Girls, Cars & Death, singularly or mixed together, though the lyrics are generally a tad on the superficial side. I'm sure they'd say the FUN side.
This album packs seventeen tracks — from the jaunty, rocking title number (though disconcertingly pronounced with that silent British "H," as opposed to the American hard one that all NASCAR aficionados would recognize) to the Big Beat ballad Where Young Men Go To Cry to a cover of the theme from The Godfather given that full Dick Dale treatment — into its divots and ridges.
There are little homages, like the guitar solo and ending of Cathy's Little Coupe and the "Tequila"-ized Fajitas. This time the other covers are a faithful rendition of Jan & Dean's Surfin' Hearse (though the first thing that pops into my head when ever I hear a rendition is the Splatcats raucous reading) and Blondie's In The Sun, which falters slightly from a lack of that sense of desperation that always seemed to be at heart of the song.
That said, you'd be hard pressed to find a better collection of classic, immediate Pop-Rock in the racks today.
[Released by No Tomorrow 2002]
Surfin' Lungs website